There's no place like home - Stavern Hospital in Norway is conducting a research project with Happy Rehab
Wednesday, August 30, 2017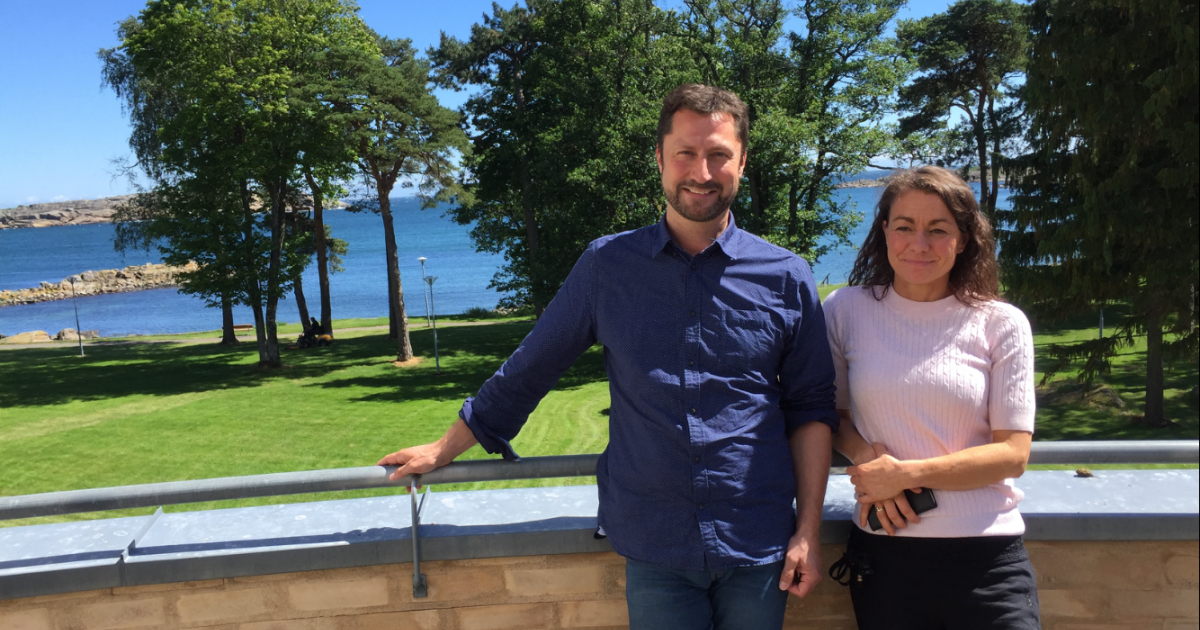 Helena Paulsson Nilsen, Head of Department of Physical Medicine and Rehabilitation at the Hospital in Vestfold, together with Martin Hjort, CEO at Innovaid.
This past year, Stavern Hospital in Norway has tested the effects of rehabilitation training with Happy Rehab. 25 children with different functional limitations are participating in the project in the course of this year. The aim of the project is to test whether it is possible to reduce amount of training time with a therapist, by doing the training at home.
Why use time and resources to attend physiotherapy several times a week, when there is assistive technology that can make good training and rehabilitation possible at home? This was the question posed by Stavern Hospital in Norway before starting their project " There's no place like home".  
In the rehabilitation unit at Stavern Hospital, the effect of training with Happy Rehab is being tested for children between the ages of eight and thirteen years. The project was initiated to examine whether it is possible to reduce time spent in therapy with specialists, by training in the standing support system at home.
"Many children lose motivation to train, if the training is routine and boring. Happy Rehab has been shown in many cases to be a good solution, because the children can train at home while it doesn't feel like training. " says Daniel Gulliksen, occupational therapist at Stavern Hospital.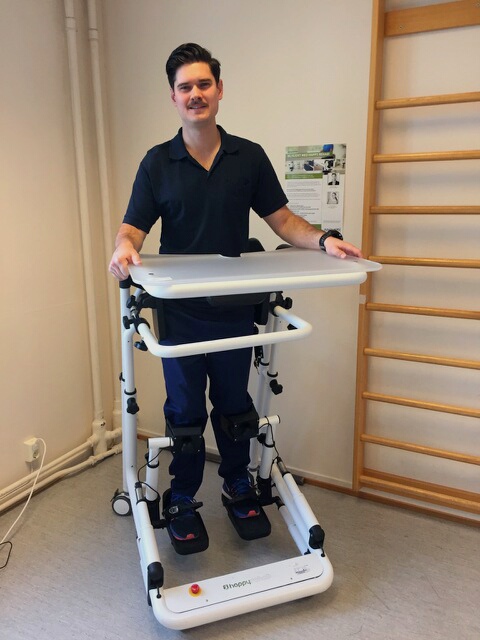 Daniel Gullikse, occupatinal therapist at Kysthospitalet
A systematic approach
In addition to testing possibilities for rehabilitation at home, Stavern Hospital, in cooperation with INNOVAID,  is also focused on further developing Happy Rehab, so that it meets the user's needs in the best way possible. This arose from a wish from Stavern Hospital and in particular Daniel Gulliksen to use Happy Rehab effectively and systematically in rehabilitation. At the same time, the project was initiated to investigate whether there is clear evidence on which to base recommending Happy Rehab instead of other training methods.
"We are investigating whether the standing support system can replace parts of the general training, so we need to do a thorough investigation before we can actually make recommendations, " says Daniel Gulliksen.
The fight against training depression  
For many children, continuous training with a therapist can easily become boring and feel like a tedious chore.
"It can even lead to training depression, where you can't mobilise the energy to train," Daniel Gulliksen says.
Daniel Gulliksen believes that Happy Rehab can make training more fun, because many of the children in the project found the computer game function in the standing support system very motivating.
"You take the children out of their usual training situations by having Happy Rehab at home. It doesn't feel like a huge, time-consuming project to train, and it gives them self-esteem that they can do the training themselves, without being dependent on a therapist", Daniel Gulliksen adds.
The children participating in the project are primarily classified at level 1-2 on the GMFCS scale, but a few of the children are at level 3. During the project, they train with the standing support system 3-4 weeks at a time. After this,  they complete a questionnaire with their parents, to give Stavern Hospital a picture of whether or not Happy Rehab is the right training and rehabilitation for the children.
Preliminary results
The project "There's no place like home" started in September 2016 and will end in September 2017. This is the final phase of the project,  and Daniel Gulliksen and his colleagues can already see a tendency.
"The fact that the training saves time is an important factor for the children and their families. At the same time, we also see that Happy Rehab is an effective training tool," says Daniel Gulliksen.
For most of the children in the study, it has been fun to try training with Happy Rehab instead of their usual training.  
"Most of the children were surprised that their legs were tired after using Happy Rehab. It didn't feel like training at all to them, " Daniel Gulliksen tells us. 
He adds, though, that the standing support system of course isn't equally fun and motivating for everyone. A few of the children who normally play a lot of computer games, felt that Happy Rehab's games weren't challenging enough. They  quickly becamebored with training , which is why Daniel Gulliksen wouldn't say that the standing support system is a solution for every child.
"We can't of course go out and say that Happy Rehab is good for everyone. But for the children it works for, it is very good, " says Daniel Gulliksen.
Results aterne skal formidles til kommunen
Training for a period of 3-4 weeks is, of course, very intensive and compact, and good results are often first seen after longer periods of training,  Daniel Gulliksen points out. But if the preliminary results prove correct, an implementation phase will be initiated, where Stavern Hospital in cooperation with the municipality will make it easier to be granted a Happy Rehab system at home.
"There are already five children who have tried Happy Rehab here at Stavern Hospital, and they were so pleased with it that they now have standing support systems at home, " says Daniel Gulliksen.