From an ambitions vision to a business in growth – Innovaid turns 10 years!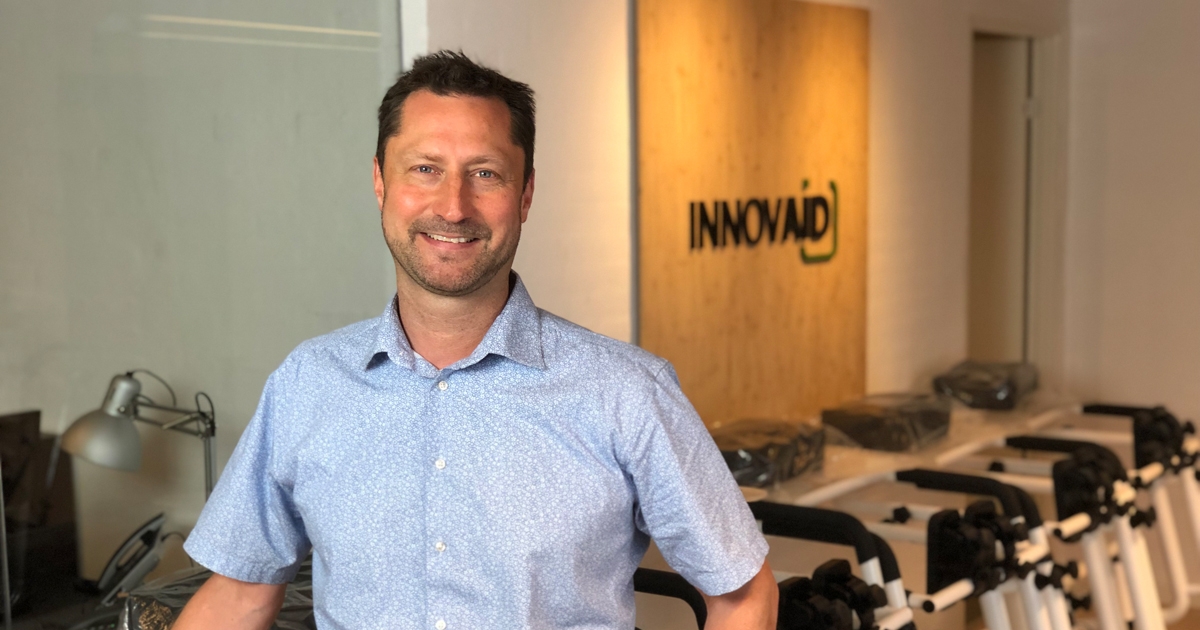 It all started with a prototype on the desk ten years ago. Today Martin Hjort stands as the founder and manager of Innovaid with ten employees. He has learned a thing or two the past ten years. That it takes both patience and tenacity to run a business, but most of all, that it is very motivating to work in a business, where you can make a difference for others.
"It's my life's work." Martin looks at the big black-green Innovaid sign, that hangs in the entrance in the office in Egå, Denmark. Around him Happy Rehab systems stands side by side with the office-desks and create a frame around what Martin has been working on the past ten years; to build a company, that creates assistive technology, that makes a difference. Initially to help his own son, Gustav, who has cerebral palsey.
"My intention with starting the company was to create an assistive technology, that Gustav could use at home, when he wanted, so that he could be able to walk as normally as possible," Martin tells.
But Gustav isn't the only one who has had a better walking-ability after using Happy Rehab. Innovaid has grown from being a one-man company to being a company with 10 employees and a bigger product selection. That means, that Innovaid has been able to make a difference for many people the past years.
Martin says, that the development of Happy Rehab is one of the biggest successes in Innovaids history.
"I think, that it is a great success, that we have made a product from an idea, that I had to make an assistive technology, that had something different than what was already on the market," Martin says.
And that is exactly what Martin views as one of Innovaids biggest strengths.
"We are agile. We can navigate quickly and adapt. There isn't a long way from idea to action," he says.
Patience and reliability
It takes hard work to start a business. That has also been the case for Martin, who have had to sharpen his patience.
"We work in a business, where things take time. I have learnt, that it is good to have a lot of patience and tenacity. It is about believing, that you have a unique and sustainable product," says Martin.
He hopes, that this is how the world sees and experience Innovaid. As a reliable supplier of assistive technology.
"We hope and believe, that we are perceived as skilled and loyal people. That we have empathy for those we are working with, and that we keep what we promise. And of course that we can supply great products to a reasonable price," says Martin.
Together on a mutual mission
Even though it can be a challenge to run a company, it is all worth it for Martin.
"The best of it all is to see it flourish. To see it grow bigger. For me it is incredibly motivating to work in a business, where I can make a difference for other people. And where I work with people who is on the same mission as me. We do not have a classic supplier-customer-relationship. We are a team, who works together to find the best solution for the user. That is very meaningful," Martin says.
A record turnover and growth
The past ten years has been eventful for Innovaid. But what are the next ten years going to look like?
"Of course, we will continue the growth we are having now. We will grow step by step. And I see it as a possibility, that we will have more unique products. Maybe also represented in more countries and in more segments," Martin says.
And the growth is already here. This year Innovaid have had the best turnover in the company's history.
So with a positive turnover and a big portion of drive and engagement, Innovaid looks forward at a lot of new exciting possibilities and challenges.