"If something is hard for you, come and play handball"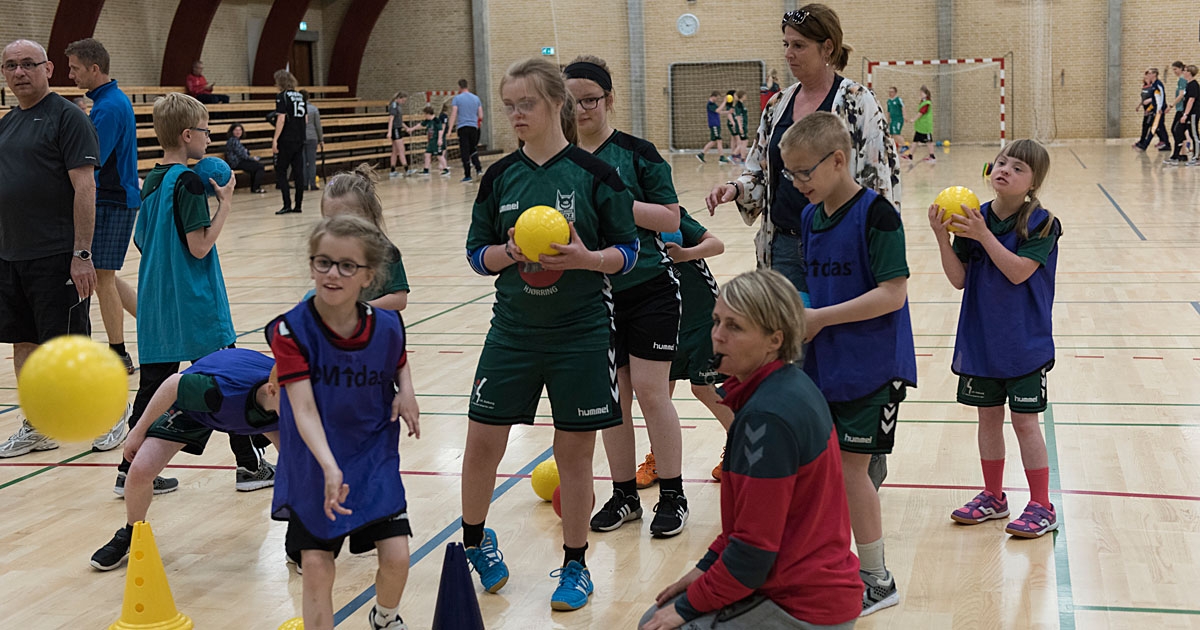 Rikke Nielsen wished there was a handball team where her daughter Magda, who has Down's syndrome, could play. This made her start Aalborg Kidz, a handball team for kids with developmental delays. We asked Rikke Nielsen, what the formula is for starting a sports team by yourself for disabled children?
"Why are there no handball teams in regular handball clubs, that Magda can join?" wondered Rikke Nielsen, trainer of Aalborg Kidz and mother of Magda, who has Downs' syndrome. Magda had tried different services offered by the city, but she wanted to join a team in a sports club.
So Rikke Nielsen, former professional handball player in Aalborg DH, took  the matter into her own hands, when she ran into the chairman of the sports association for the disabled in Aalborg.
"He was very enthusiastic about the idea, because they didn't have much in the way of children's sports," Rikke says.
Rikke contacted the local sports club, and got permission to start a team in the club.  Promotion of the club resulted in an advertisement in the newspaper with the title "If  something is hard for you, come and play handball".
"It worked. 21 kids came to the first training, and I had only expected about five. It was overwhelming," Rikke tells us.
Aalborg Kidz was established in September 2016 and there are now 45 players from 6 to 16 years of age.
The focus is on handball - not handicap
When the players in Aalborg Kidz come to training every Monday, they have to feel that they are a part of a team.
"We don't really care which disability they have. We try to make training as normal as possible. When I tell them to do ten push-ups, I expect that they will do it. I think they like the fact that there are expectations for them to live up to," says Rikke.
As a part of handball training, players in Aalborg Kidz  go to training camps and tournaments. Rikke thinks it is important that the children feel like they are a part of the group.
"The best thing is that all of them are here voluntarily. It's not school sports that they are forced to participate in. This gives them a really good feeling of belonging together," says Rikke.
In Aalborg Kidz, all the children also have matching sports suits, so that they really feel that they are on the same team. At the same time, the team has a closed Facebook group, where all of the families are good at communicating with each other and supporting each other. 
"Most of them have introduced themselves and their families on the Facebook group's page, so that we could get to know each other better," says Rikke, who thinks that cooperation with parents is an important part of starting a sports club for children with disabilities. 
Structure and sports associations
When Rikke trains Aalborg Kidz, there are certain things she needs to be aware of, compared to the other teams she trains. First and foremost, structure is an important part of the weekly training. The children need to know what is going to happen, and it can't be changed.
"We still have a circle in the beginning of every training, where we tell each other our names. Even though we know each other now. But they still want to do it, because it is a part of the routine," says Rikke.
Aside from this, there also has to be strict supervision.
"There's no use in letting them start the exercises themselves. The exercises have to be very easy to understand, or they quickly lose interest. And they will be sure to tell you that," Rikke laughs.
The children are very aware of Rikke's mood when she is training. Therefore it is important to her to show them that she also enjoys training.
"We are very enthusiastic when we're there. And we make an effort to give the children recognition and say wow, that was a good throw, " she says.
But one of the most important parameters in the starting phase is that the team is established in a sustainable association, that can create a stable framework for the sports team. 
"Just ask your local sports club. I would be surprised if they weren't interested. Many clubs in Denmark focus on making diversity possible. And most clubs are very proud of their  teams for disabled persons," says Rikke.
"But who will we play against?"
When the children in Aalborg Kidz had played internal matches long enough, they wanted rivals from other places. This was the kick-off for LykkeLiga (Happiness League). According to Rikke, LykkeLiga is a loosely affiliated organisation of different handball teams for children with developmental delays. Here the trainers can share experiences from training, good ones as well as less successful ones. 
In addition, LykkeLiga, who calls itself "Denmark's least normal association" facilitates games between the different teams.
"Among other things, we arranged  LykkeCup, where teams from the whole country were gathered together in  Gigantium in Aalborg for a tournament," says Rikke.
Any team for children with developmental delays can be a part of LykkeLiga.
Hoping for more teams
For Rikke, Aalborg Kidz is just the beginning of something she hopes will spread. 
"I hope more teams for children with developmental delays will be established. Not just handball teams, but all kinds of  sports," says Rikke.
Besides this, she hopes that it will become a more natural thing to make demands on this group of children.
"Generally these children spend a lot of time sitting still, so it would be fantastic to make more children with developmental delays get used to moving their bodies," she says.